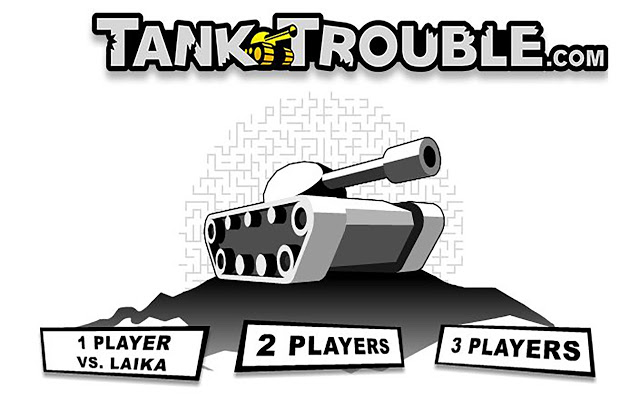 Currently, the best one in the tank games category is Tank Trouble, main benefits which this game has compared to others is that it has different modes which allow you to play in a two-player mode as well as three-player mode, this way you can enjoy this game with your friends and spend some time together. Except multiplayer you can also play this game in solo mode vs a computer named Laika (first dog in space), this is a pretty tough opponent so don't lose your focus or one mistake and your tank will be destroyed.
Well, I already told you that this game has different modes allowing multiple players to play at the same time, what I didn't tell you is that it also has different power-ups within the game. These power-ups allow you to upgrade your tank and get better firepower. Power-ups represent a set of different icons that appear randomly across the maze, make sure that you get the first and it will increase your chance to win.
On my front page, I have Tank Trouble Unblocked, which means that this game can be played from all locations (school, work office, library, etc.). I tried my best to improve the gaming experience for my visitors so I really hope that you will enjoy it.
I also have Tank Trouble Hacked, some fancy new weapons and vehicles can be found in this version and it is additional fun and entertainment for those who love tank battle games.
I will also often share some new popular games which are trending at the moment, visit my blog frequently and you won't be disappointed.
Meanwhile, enjoy your time, invite your friends, fight together in different modes and compare your gaming skills, competition is always additional fun, entertainment, and thrill.
GL HF!
---